Steampunk Watch
You see, in this world there's two kinds
of people, my friend: those who wear a
steampunk watch and those who don't.
Where do you stand?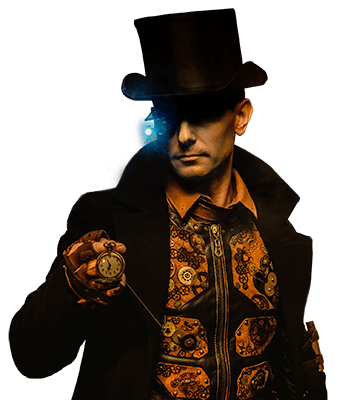 Steampunk Watches: Add Some Steampunk Style to Your Outfit!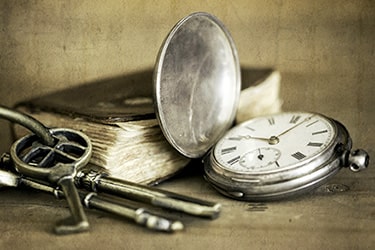 When you're a woman, you have lots of ways to add a steampunk feel to your everyday wardrobe: steampunk necklaces, steampunk rings, steampunk earings, you name it. You can also wear steampunk clothing (gothic skirt, corset) or some victorian jewelry (lace bracelet, choker necklace), but that might be going overboard. And of course, you can't miss with a steampunk watch.
Conversely, men have fewer choices. Only steampunk wrist watches, pocket watches and watch cufflinks (when wearing a shirt and a suit jacket) come to mind. In addition to their dazzling Neo-Victorian vibe, steampunk watches allow you to keep track of time and they offer a unique way to feel the power of the past, present and (retro-)future all in one.
To help you pick the steampunk watch that meets your taste and needs, we've listed the best models available today. We've divided these into 2 sections. The first section is dedicated to steampunk wrist watches, and the second to steampunk pocket watches (click here to directly see the pocket watches). Please note that mechanical watches are typically more fragile than quartz ones. If you're in the market for a mechanical watch, you should prefer a model with a Swiss or Japanese movement (which are known to be very reliable), or a watch that comes with a warranty.
Steampunk Wrist Watches
Far from the ordinary models that are available in traditional stores, steampunk wrist watches are elegant and audacious timepieces. Much more than instruments that tell time, steampunk watches are also jewels that reflect your personality and add a unique touch to your outfit.
Shop for the latest styles of quartz or self-winding (automatic) steampunk wristwatches! ThinkGeek's Steampunk-Styled Tesla Analog Wristwatch is one of the best looking steampunk watches for men. Jules Verne would have loved it for sure!
Steampunk Pocket Watches
Smartwatches are convenient and useful, but let's admit it – they're not so pretty. Yet, the primary reason we buy watches is their design. What better design for steampunk aficionados, than a pocket watch? Steampunk pocket watches with chains are the perfect blend of class and extravagance. Not to mention that they will make you feel like a steam locomotive conductor everytime you put on one.
Whether you're looking for a skeleton pocket watch or a quartz pocket watch, we've got you covered.
If you want to go for a timeless chic when choosing a timepiece, opt for a steampunk pocket watch. The only question that remains is: which is more classy, Roman or Arabic numerals on the dial?
⚙️

Should You Buy a Mechanical Watch or a Quartz One?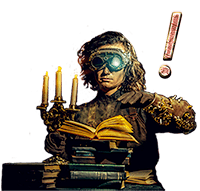 If you're considering buying a steampunk watch, you need to understand the pros and cons of mechanical vs quartz watches. A quartz watch is a battery-powered watch that uses an electronic quartz oscillator to measure the passage of time. On the other hand, a mechanical watch uses a mechanical movement consisting of an intricate series of springs and gears working together to produce, store and release the energy to power the watch.
There are two types of movement (also referred to as clockwork or mechanism) found in mechanical watches: automatic (self-winding) and manual (hand-wound). An automatic movement is powered by the kinetic energy created by the wrist and arm movements, while a manual movement need to be powered by winding the crown every 24 or 48 hours. Mechanical watches are usually preferred over quartz watches because of their skeletonized appearance, which allows their wearer a peek at the working machinery of the watch. It's a one-of-a-kind sight for a lover of all things mechanical.
Compared to quartz watches, mechanical watches are generally more fragile, more expensive and less accurate timekeepers. A mechanical watch (even from a luxury brand such as Longines, Breguet, TAG Heuer, Philippe Patek, Rolex, Tissot or Seiko) will typically gain or lose a few seconds a day. As far as maintenance, mechanical watches need servicing about every five years, while quartz watches typically need new batteries every 2 years. Depending on the model, you may have to bring your quartz watch to a watchmaker or a jeweller to get the battery changed.
💡

Why Do Some Watches Use the Roman Numeral IIII Instead of IV?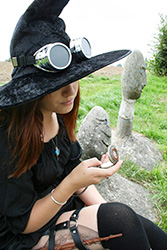 Have you ever noticed that, on most watch dials, the number 4 is often written IIII instead of IV as the Roman numeration rule would have it?
It is worth knowing that initially, the Roman numeration system was based solely on an additive principle: 1 = I, 2 = II, 3 = III, 4 = IIII, 5 = V, 9 = VIIII, and so on. The subtractive principle (4 = IV, 9 = IX), only appeared later, during the imperial period. These 2 writing systems were used interchangeably during Antiquity.
It was only during the 15th century that the use of the subtractive system became the norm… except for the 4 of the clock dials (hence the name "watchmaker's four" given to the IIII). The underlying reasons are aesthetic. First, the use of IIII allows the clock or watch dial to be divided into three groups of four numerals: the I group (I, II, III, III, IIII), the V group (V, VI, VII, VIII), and the X group (IX, X, XI, XII). The use of IIII also brings more balance between the left and right sides of the dial. Indeed, the width of the IIII balances better with the width of the VIII facing it. The desire for balance also explains why the IX is prefered to the VIIII: it is to allow a better symmetry with the III located on the opposite side of the dial.